Nancy Harrow's new CD, Partners II: I Don't Know What Kind of Blues I've Got,
out January 1, 2021!
Click here for more information.
---
About Love
Performances were interrupted by the closing of the theatre March 12, 2020, due to the pandemic.
About Love is a new play with songs and music, based on the exquisite short story, "First Love," by Ivan Turgenev. Featuring a haunting jazz score by Nancy Harrow and a versatile cast of six playing eighteen characters, all within a bold, theatrical staging by Will Pomerantz, About Love promises to be a unique theatrical event.
A young man expects to spend a quiet summer with his parents in the Russian countryside, but soon discovers those three months will be most consequential of his life, as he learns the difference between love and passion and the ephemeral nature of life itself.
FEB 25 - MAR 4, 2020 - All tickets $25
MAR 6 - MAR 22, 2020 - Tickets from $33* (Promo Code: LOVE20)

The Sheen Center, 18 Bleecker Street (at the corner of Elizabeth Street, NYC)
By phone at 212-925-2812 or in-person at The Sheen Center box office Monday to Friday noon to 5PM
Listen to song selections at: www.aboutlovetheplay.com/song-selections
---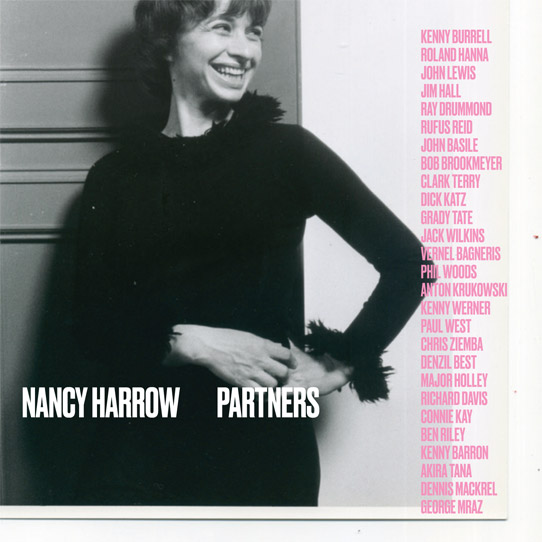 Nancy Harrow's new CD, PARTNERS, available now!
Click here for more information. Or click the audio player above to preview tracks from the new CD!
---
Sunday, November 12, 2017
3:00 PM
New York Society Library
53 E. 79th Street
New York, NY

Singing songs from my 1994 Lost Lady album, which was based on the Willa Cather novel, A Lost Lady.

with Alphonso Horne - trumpet
Dave Linard - keyboards & harmonica
John Snow - bass

Arrangements by Dick Katz, Dennis Mackrel, Alphonso Horne, Owen Broder, and Rob Edwards
---
I have recorded a new album at East Side Sound, The Song Is All, with most of the young musicians in the band that was onstage in my musical. Alphonso Horne is the producer as well as the trumpet player; arrangements were written by Alphonso, Dennis Mackrel, Owen Broder, & Rob Edwards. Two new pianists - Chris Ziemba and David Linard - were added, plus guest appearances from Dennis Mackrel and Rufus Reid. The songs are all mine, gleaned from the five musicals I have written. The album will be released October 3rd on the Benfan label and will be available at Amazon, iTunes, CD Baby and other outlets.

Fresh Sounds Recordings in Barcelona reissued my Beatles album in September, 2015. Up until this reissue, that album was only released in Japan.

Audelco nominated my show, For The Last Time, as musical production of the year. Also three of our principal actors were nominated for outstanding performance in a musical. (however, we did not win). That was in October, 2015.

A reissue of Wild Women Don't Have The Blues and You Never Know has been released by Fresh Sound in Barcelona as one CD.

The Cat Who Went to Heaven, my jazz puppet show done to the music of the CD, had a week's run at BAM (Brooklyn Academy of Music) beginning April 9, 2014. Directed by Will Pomerantz.
View Flier

Nancy performed in Paris on Radio France June 21, 2013, on Alex Dutilh's jazz show accompanied by Alain Jean-Marie, pianist.

Maya the Bee opened at the Culture Project at 45 Bleecker Street in the fall of 2012 and ran there until mid-May, 2013.

Nancy Harrow performed a concert at the NY Society Library on 79th Street on October 10, 2012, with Jack Wilkins accompanying her on guitar.

A second production of This Side of Paradise, Nancy's musical about Scott and Zelda Fitzgerald, was presented at the History Theatre in St. Paul, Minnesota, for a 5-week run in April/May, 2013. Directed by Ron Peluso.

Nancy Harrow has launched her own label and the first CD is out now An Intimate Evening with Nancy Harrow featuring Roland Hanna and Paul West, Live in New York City.

This Side of Paradise: A New Musical About Zelda and F. Scott Fitzgerald opened at the St. Clements Theater on 46th Street in April 2010. (music from the Winter Dreams CD plus some new material; book by Will Pomerantz & Nancy Harrow; directed by Will Pomerantz) and played for 6 weeks.

Nancy performed at the Tsukuba Festival in Japan the evening of November 23, 2009, accompanied by Don Friedman and a Japanese bass and guitar. This concert was recorded and released by Camerata Records in Japan only.

The Cat Who Went to Heaven opened as a puppet show March 25, 2008 at The Culture Project, 55 Mercer Street between Broome and Grand. There was a performance at the Asia Society of The Cat in February 2009, and a month-long run at the Harlem School of the Arts. The Cat ran for eleven performances at the Kennedy Center in Washington, D.C. in April/May, 2011.

The puppet show of The Adventures of Maya the Bee has been translated into Japanese. OLC (the Japanese Disneyland) toured 10 cities in Japan in November/December 2007 and toured in 2008-2009. Check out some of the merchandise being produced for the Japanese market! CLICK HERE

In October 2009 Nancy participated in a forum at Washington University in St. Louis under the auspices of Gerald Early, professor of literature. The subject was jazz and children.

The CD of The Adventures of Maya the Bee was reissued in 2007 by Artists House.

Warner Music released the Atlantic CD You Never Know in Japan in February 2007. Muzak Records in Japan released Winter Dreams: The Life and Passions of F. Scott Fitzgerald at the end of May 2007. In October 2009 Muzak Records released reissues of Two's Company (with Jack Wilkins) and The Beatles & Other Standards.

"The Adventures of Maya The Bee" enjoyed a revival at the Culture Project in September 2012 and ran until mid-May 2013.
This jazz site is part of